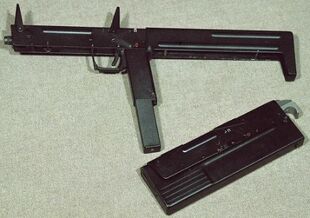 Not to be confused with the unrelated PP-90M1
The PP-90 (Russian: ПП-90) is a Russian 9mm folding submachine gun, developed by the KBP Instrument Design Bureau in Tula for use with special units of the Russian Ministry of Internal Affairs (MVD). It is designed for close quarters combat, particularly engagements that require the weapon deployed rapidly in unusual circumstances.
PP-90
Standard variant chambered in 9×18mm Makarov.
PP-92
Variant chambered in 9×19mm Parabellum.
PP-90M
Select fire variant.
References
Edit
External Links
Edit
Community content is available under
CC-BY-SA
unless otherwise noted.