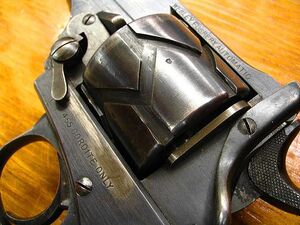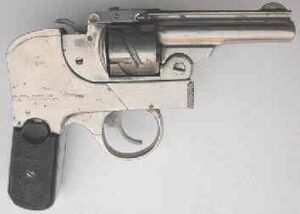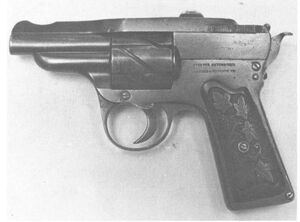 The double action revolver use a long trigger pull to cock the hammer, thus negating the need to manually cock the hammer between shots. The disadvantage of this is the long, heavy pull that cocks the hammer makes the double action revolver much harder to shoot accurately than a single action revolver (although cocking the hammer of a double action reduces the length and weight of the trigger pull). There is a rare class of revolvers, the automatic revolver, that attempts to overcome this restriction, giving the high speed of a double action with the trigger effort of a single action.
The Webley-Fosbery automatic revolver was the first commercial example, introduced in 1901. It was recoil-operated, and the cylinder and barrel recoiled backwards to cock the hammer and revolve the cylinder. It was distinctive in that cam grooves were milled on the outside of the cylinder to provide a means of advancing to the next chamber—half a turn as the cylinder moved back, and half a turn as it moved forward. .38 caliber versions held 8 shots, .455 caliber versions 6. At the time, the few available automatic pistols were larger, less reliable, and more expensive. The automatic revolver was popular when it first came out, but was quickly superseded by the creation of reliable, inexpensive semi-automatic pistols. Another known example was the Spanish Zulacia Automatic Revolver.
In 1997, the Mateba company developed a type of recoil-operated automatic revolver, commercially named the Mateba Autorevolver, which uses the recoil energy to auto-rotate a normal revolver cylinder holding 6 or 7 cartridges, depending on the model. The company has made several versions of its Autorevolver, including longer barelled and carbine variations, chambered for .357 Magnum, .44 Magnum, .454 Casull and .50 AE.
To avoid confusion
[
]
Between roughly 1880 and 1895, the term "Automatic Revolver" was used for manual operated top-break revolvers that automatically ejected spent rounds when opened.