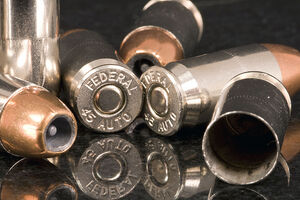 A cartridge, also called a round, packages the bullet, gunpowder and primer into a single metallic case precisely made to fit the firing chamber of a firearm. The primer is a small charge of impact-sensitive chemical that may be located at the center of the case head (centerfire ammunition) or at its rim (rimfire ammunition). Electrically-fired cartridges have also been made. Caseless ammunition has been made as well. A cartridge without a bullet is called a blank; one that is completely inert is called a dummy.
In popular use, the term "bullet" is often misused to refer to complete cartridges. This is incorrect; "bullet" refers specifically to the projectile itself, not the entire cartridge.
Community content is available under
CC-BY-SA
unless otherwise noted.