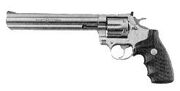 The Colt King Cobra revolver, chambered in the [[.357 Magnum cartridge, was in production beginning in 1986 and was discontinued in late 1990s. The .357 Magnum chambering also accepts .38 Special and .38 Special +P cartridges.
King Cobra was based on the earlier Trooper revolvers but featured a more modern design with full length underbarrel lug and solid top barrel rib. Sights were fully adjustable. It was intended as a less expensive alternative to the Colt Python. Like its more powerful twin, the Colt Anaconda, all King Cobras was introduced blued and later offered in stainless steel. The King Cobra is an all-around versatile gun, suitable for sport, law enforcement duty, self-defense and even hunting. Its smooth and crisp trigger pull make it great for target shooting as well.
King Cobra was available in two shades: stainless steel finish and blued.
External links
Edit