The DP-64 Nepryadva (ДП-64 Непрядва) is a Soviet grenade launcher designed by Viktor Rebrikov in 1989 and produced by ZiD since 1990. It, along with the related DP-61 Duel, fire torpedo-like grenades and are intended to be used at dockyards.
The grenade launcher was designed by Viktor Rebrikov and put into service with the Russian Navy in small numbers in 1990. As of 2015, the DP-64 is in mass production, as the Russian Defense Ministry received an order from Abu Dhabi for a large amount of DP-64s.
The weapon is designed to protect dockyards with its specialized grenades. It is breech-loaded and loads from the side of the weapon with the use of a side-breaking mechanism. Barrels for the weapon are selected using a lever situated above the pistol grip. The weapon has rubber padding at the rear to help reduce felt recoil for the user. A front grip is added for support when firing indirectly.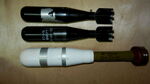 The DP-64 uses various types of 45mm grenades, which are the FG-45, a fragmentation grenade with a 14 meter (45.9 feet) blast radius and a 40 meter (131.2 feet) radius underwater, the SG-45, a flare grenade that emits a red light for roughly 50 seconds, and the UG-45 grenade, which is a high-explosive/concussion grenade.
Community content is available under
CC-BY-SA
unless otherwise noted.