Joseph Christopher Enouy (1802 - 1882) was a British engineer who patented a unique method of increasing a revolver's ammunition capacity.
Joseph Enouy was born in Covent Garden on the 27th of July 1802, the son of Joseph and Elizabeth Enouy. He worked as an engineer in Middlesex. He married Martha Elizabeth Davis on the 13th of February 1831 and died in Surrey on the 31st of October 1882, at the age of 80.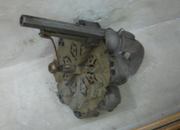 On the 14th of June 1855, Enouy took out a patent for a method of reloading revolvers. The patent describes replacing one cylinder with another in quick succession via a rotating axis containing multiple cylinders.
Enouy's patent was applied in practice several times. There exists an English transitional revolver that has a rotating wheel held on an under-barreled axis; there are eight cylinders attached to spokes on the wheel, giving a total ammunition capacity of 48 rounds. This gun was formerly part of the Vokes collection in Hampshire, England, but is now kept in the Abdeen Palace Museum in Cairo, Egypt.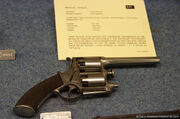 The dual-cylinder version of the concept was also applied to a revolver and a revolving rifle. These worked in much the same fashion but did not employ a rotating wheel, but rather a central rotating axis built into the frame. An example of the rifle is kept at the Museum of Artillery in Turin, Italy. An example of the revolver is kept at the Defense Technology Museum in Koblenz, Germany.
It is not known whether Enouy himself made these guns, or whether they were built by a professional gunsmith using Enouy's patent.
Community content is available under
CC-BY-SA
unless otherwise noted.