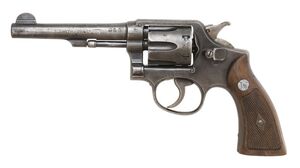 The Smith & Wesson Model 10 (Military & Police, Victory Model) is a revolver designed in 1899 and manufactured by Smith & Wesson. It is still in production to this day.
Developed from the Smith & Wesson .38 Hand Ejector Model of 1889, the Model 10 was first offered in .38 Long Colt (.38 LC).
The U.S. Army and Navy put in an order for 2,000-3,000 of the .38 Hand Ejector models. Word got back to the states of the ineffectiveness of the .38 LC cartridge (as the U.S. was at war in the Philippines), and in response, Smith & Wesson offered the revolver in .38 Special.
Later variations introduced modifications to the internal lockwork, making it simpler and adding an underlug to engage the ejecting rod.
In 1904, different barrel lengths were introduced - 4, 5, or 6-inch, and in 1919, Smith and Wesson began heat-treating the cylinders.
The Victory models were put into production during World War II, and were shipped to Britain, Australia, Canada, South Africa, and New Zealand, under the Lend/Lease program. These were chambered in .38 S&W. Some were also in service in the U.S. military (U.S. Navy and U.S. Marine Corps), and these were chambered in .38 Special.
The Model 10-6 revolver is chambered in .357 Magnum, and from this, spawned the Smith & Wesson Model 13 and Smith & Wesson Model 65 revolvers.
Design details
Edit
The Model 10 is a fixed-sight, six-shot revolver, with a fluted cylinder. It features either a rounded grip or a square grip, and can come with barrel lengths ranging from two inches to six inches. It has a bladed front sight and a notched rear sight; the top of the front sight should be centered in the notch of the rear sight.
Commercial models are typically blued or nickel (chrome). The Victory models produced during WWII were parkerized or sandblasted.