About me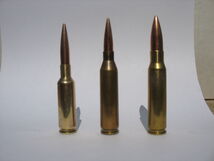 Former Ordnancemen in the US Marine Corps
Husband
Father of two Daughters and two Grandsons
Building Inspector
Wildcatter, Reloader, Hunter and Compettive Shooter for over 35 years
Author
I am very dyslexic; no pity please, I just threw that out so you will understand why I misspell words (spell check not withstanding).
My Avocation
Other than hunting and shooting, I build rifles and design small arms cartridges. To date I have built maybe 11 custom rifles. I start with a factory action; M700 or cheap M98. Of though's rifles I now have two. I started using a wildcat I conceived 30 years ago for 1000yd competition. I call it the .284 Achilles and is based on a .425 Westley Richards case. I have since started using the 7 mm Remington Ultra Magnum brass. This brass is much stronger and will allow the full potential of this cartridge to shine through. This rifle is now for hunting only. I plan to order correctly head stamped brass within the next few months (Novenber 2010).
The second rifle is my Palma rifle. I started two years ago on a new Remington 700 action and used 40xb stock is effectivly finished useing a scope at this time (June 2009). Some time next year I will rebarrel the rifle with a 30 inch Palma barrle, chambered in .308 Winchester, remove the scope and add the correct open sights.
Well two new rifle projects are in the works but somewhat on hold. The wildcat called the .338 Achilles (.416 Achilles: abandoned, I don't need two elephant rifles) is being built on a tactical platform with the use of a 245gr (15.88 g) BoreTech solid. The effective range should be out to 2200 yards. Wow, for about 1200 bucks, I'm going to have a rifle that's as effective as the .408 Chey Tac. But due to the economy I'm pushing back the building of this rifle. The second project is still the .460 Weatherby Magnum. It will be built on a 1999 Montana Professional Hunter Action (September 2006), when it gets here!!! [Still not here; November 2010].
Greg continues to cries as if he's a 6 year old little boy...
I will also be putting a new laminated wood stock under my wife's .243 Winchester rifle and rebarreling it for a wildcat I call 6 x 44mm Glover (see the above photo). This wildcat is formed from the 6.5x47mm Lapua case by shorting the case with a 40 degree shoulder. This wildcat is specifically designed to shoot a 115gr (7.45 g) Berger VLD bullet with the same internal ballistics as the 6mm Norma BR improved (Dennis Flaharty version, Captain of the 2011 USA Palma Team), loaded with a 107gr (6.93 g) Sierra Match King bullet. This cartridge will be for 1000 yard competition.
Do to my knee surgery in 2007 and COPD, I will not be able to hunt as I have before. I think at this point only a guided hunt will be afforded to me. I have been able to get back to shooting 1000yd competition on an informal basis. I have also started shooting Palma but it will take several years to developed this skill and accumulate all the paraphernalia... I mean appropriate shooting equipment.
I reload profusely and have probable put several thousand pounds of lead through my rifle and shotgun presses.
Oh, how could I forgot! I'm a motor head as well. Anything and everything to do with big block Chevey's. I eat, drink and breath them. I've built too many to count. I love them all; form 366 gutless wonders to 572 behemoths, naturally aspirated to blown, stroked to destroked, manual, automatic, turbocharged or on the bottle. Its all good...
My Contributions
Adoption of Gun Wiki
Myself along with Smoke. have adopted Gun Wiki. To date I've made 2000 edits made mostly up as Housekeeping edits. Cleaning up Gun Wiki to promote participation has been very gratifying and a learning experience. I expected it would take me untill early 2011 to finish, but I've found I have only gotten the uncategorized, categorized. Now I'm going to work on putting all the Gun Images in gallries. There are about 1500 images; gun pictures, icons and emoits. I may not be making signifcant controbutions to articels and their creation for sometime. I will also be linking, unliked Gun Wiki articals to one another. There are about 118 unlinked articals. Also many linked articals with just a few links.
Major Edits
Pages Created
User Box
| | |
| --- | --- |
| | This user is American. |
Community content is available under
CC-BY-SA
unless otherwise noted.