Vasily Alekseyevich Degtyaryov (also spelled Degtyarev) was a Russian engineer and firearms designer.
Vasily Degtyaryov was born in Tula in 1890. After he left school at the age of 11, he was employed by Tula Arms Plant as a spring tester and machine operator. When World War I broke out, Degtyaryov was drafted into the Army as an engineer and stationed at the Sestorets Arms Factory, where he was trained by Vladimir Fedorov. His first prototype design, an automatic carbine, was submitted to military trials in 1916 and rejected. After the war, Degtyaryov earned a position at the Oranienbaum proving grounds, where he oversaw experimental weapons testing.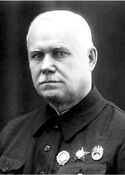 In 1924, Degtyaryov earned a position at the newly-established small arms plant at Kovrov, where he again worked under Fedorov. While working there, he designed machine guns and submachine guns, including the DP-28 and the PPD, both of which were accepted into military service and used during World War II. After Fedorov's retirement, Degtyaryov became Chief of Design at Kovrov, and was awarded the title of Major General of Engineers. He received several state prizes for his wartime efforts, including the Hero for Socialist Labor and the Stalin State Prize. He died in 1959 at the age of 69.
References
Edit